Background
Established in 2014, The Nest Investment Co., Ltd. in Yunnan is a professional investment company who's business portfolio expands real estate development, tea trading and hotel management. The company is headquartered in Kunming along with other branches located in Taiwan, Lincang, Xiamen and other cities. In the company's first-phase market strategic plan, it has already invested in more than 10,000 mu(1647 acres) of tea gardens across the China and Myanmar boarder. At the same time, the company's real estate and hotel projects in Lincang area are also under development. The projects include a 18,000-square-meter Shuangjiang Green Tea Manor Hotel whose main construction has nearly been completed. Another big project is a commercial complex named Jindu Trade City . This project aims to attract investment from inside China and another 10 countries in Southeast Asia such as Thailand, Myanmar, Vietnam and Laos. The early promotion for this project is already up and running. In the future, the company will continue to further develop its real estate sector, hotel management and tea industry in Yunnan province. Today, the company's business portfolio is expanding to South China, North China, East China and other regions.
Backing up by the advanced concept for human resource and strong financial reserve, the company has some of the best industry elites and management talents in the industry. The company has also introduced a large number of advanced technologies and equipments at home and abroad, representing the new trend of industry development, providing powerful technological support for the company's business portfolio. Under the banner of The Nest Investment Group, there are Taiwan Yunshuitang Co., Ltd., Yunnan Nest Hotel Management Co., Ltd., Yunnan Mingriyuan Tea Co., Ltd., Gengmamengding Jindu Real Estate Development Co., Ltd., Xiamen Yuechaqu Technology Co., Ltd., Shuangjiang Rongkangda Investment Co., Ltd.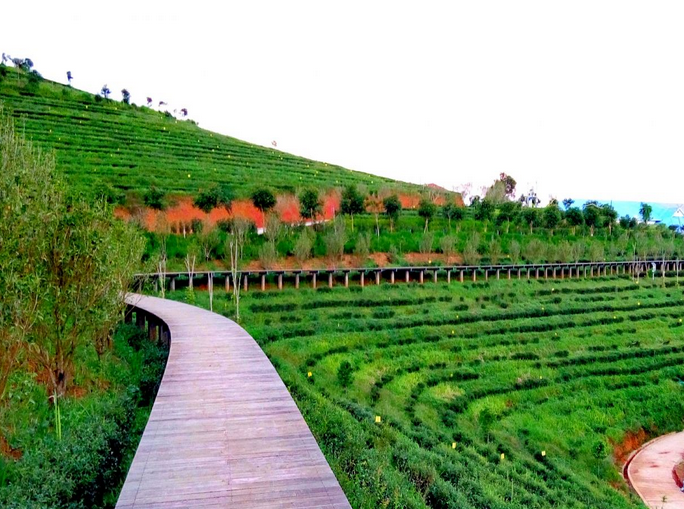 一、Taiwan Yunshuitang Co., Ltd., Yunnan Mingriyuan Tea Co., Ltd., Xiamen Yuechaqu Technology Co., Ltd.
Taiwan Yunshuitang Co., Ltd., Yunnan Mingriyuan Tea Co., Ltd., Xiamen Yuechaqu Technology Co., Ltd. is a tea enterprise under The Nest Investment Group, which gathers tea plantation, production, processing, packaging, sales and sightseeing under its one-stop core.business philosophy. At present, the company has a total tea growing area of ​​more than 21,000 mu in Myanmar and China, including 2000 mu in Gongmingshan Mountain in Myanmar, 16,000 mu of Longtan ancient tea, and 3,000 mu of organic tea farm in Shuangjiang. In 2009, the company established the soft-wood oolong organic tea garden base in Shuangjiang, covering an area of ​​more than 3,000 mu, with an investment of more than 100 million yuan. A tea theme boutique manor hotel was also established nearby the tea gardens. The company is working closely with the local government to promote the Mengku big-leaf tea variety in order to establish Shuangjiang as a individual brand . In the same year, technology and capital was heavily invested in the management and operation of Gongmingshan tea farm. Tea masters from Taiwan and Thailand were also hired to carefully craft a special tea whose plant is a cross between local ancient tea trees and lots of top tea plant varieties. Alpine Organic Oolong was then born thanks to this meticulous craftsmanship. Organic certifications from the United States and the European union were also granted to make sure the top quality of this tea.
The company is breaking the tradition sales pattern and picking up the current Internet + marketing trend, expanding its sales channels to interactive mobile e-commerce platforms and social networks such as Wechat, opening up a one-stop solution for tea merchants, tea farmers and tea drinkers. From two-dimensional to three-dimensional communication, innovative perspectives always incite and create consumer demand, which facilitate tea farmers, tea merchants, entrepreneurs, online brands and economic growth of the industrial value chain. The company is committed to make the tea farms the "world tea source" and use the innovation of its key industries as driving force to actively promote the development of Yunnan tea brand building, which ultimately promote the stable development of China's tea market.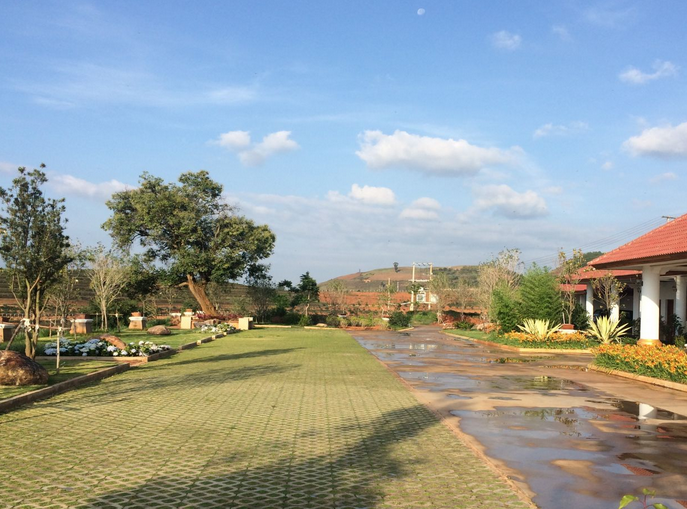 二、The Nest(Yun'nan)Hotel Management Co .Ltd
The hotel is located in a mountainous tea farm owned by RongKangDa in Xiaowanshan Mountain, Shuangjiang County, LinCang City. It's roughly 15 minutes drive from the county's town center. The 18000 square meters hotel sits in a high terrain with open view overlooking the entire county town and the 2000 mu (329 acres) world-class organic tea farms. The aesthetic of the interior really defines the luxurious nature of the boutique hotel. The hotel rooms offer a wide range to choose from 55 square meters to 120 square meters. Inside the hotel complex there are 6 villas with 14 different styles of luxury suites, 2 apartment buildings with 32 standard rooms and double bed rooms. Each hotel room can enjoy mountain view, tumbling fog and looming twilight from different angles. The hotel features restaurants of both Chinese and Western taste, boutique shops , mahogany furniture, tea ceremony quarter, mahjong rooms and multi-purpose function halls. Guests not only can indulge themselves in the swimming pool with nice view or work out in the hotel's gym, but also can experience the whole process of alpine oolong tea making and possibly try for themselves if they are in the mood.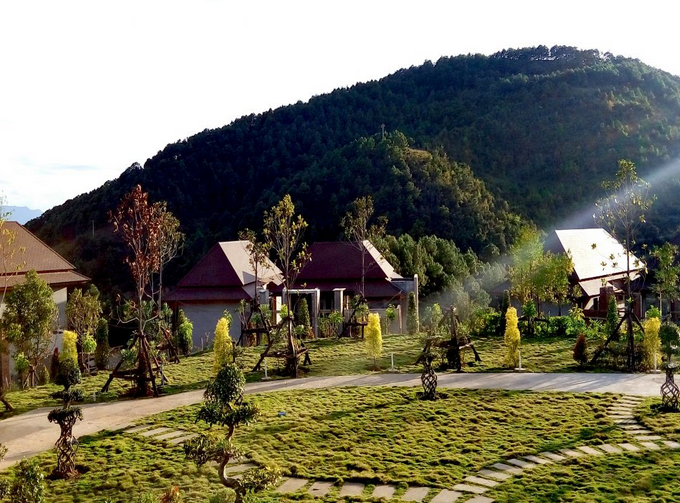 三、Mengding Jindu Real Estate Development Co., Ltd.
Mengding Jindu Real Estate Development Co., Ltd. of the was registered and established in Gengma County, Lincang City, Yunnan Province on July 31, 2013 with a registered capital of 20 million yuan.
Since its establishment, the company has been developing at a steady pace in the highly competitive real estate development market in Mengding.
The first project invested by the company is Mengding Jindu Trade City, a comprehensive commercial complex located in the middle section of Nanmusuan Rd, Mengding Town, Gengma County, Lincang City, Yunnan Province. It is at the heart of Mengding Border Trading Zone. The Jindu Trade City project covers an area of nearly 200 mu(32 acres), with a plot ratio of 1.78, a greening rate of 35.01%, a building density rate of 34.22%, and a total construction area of 250,000 square meters. From the height of international trade, the project plan combines the unique transportation location advantages of Mengding Town. Based on the principle of people-oriented and environment-oriented, the project landscape is built with great demand and large cost, and strives to make this project an eco-friendly business center with natural landscape. At this stage, the project is carrying out investment promotion work for 10 countries in Southeast Asia such as Thailand, Myanmar, Vietnam, Laos, etc., which attracts different business practices ranging from catering, food, agriculture, fishery, jade trading, tourism to hospitals, commercial associations etc. In addition to the Mengding Jindu Trade City, which is being developed at the moment, Mengding Jindu Real Estate Development Co., Ltd. has hundreds of acres of land reserves in greater Lincang area, which is sufficient for long-term development and construction for the company.At the same time, relying on the geographic advantage of bordering Myanmar. the company also seeks suitable land and real estate projects in Myanmar for further investment.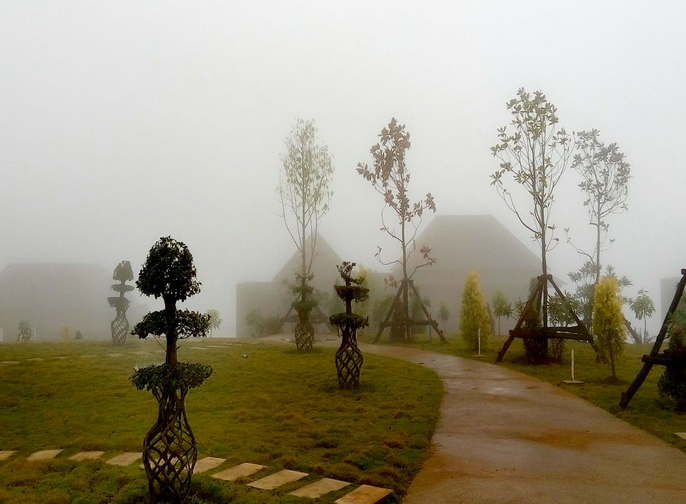 In The Nest Group's future plan, the innovative practice of the above projects will be a replicable test field. The success of this experimental field will provide the best reference for the blueprint and irreplaceable experience for business replication.