Corporate Culture
For people who appreciate tea, the most important thing is not the high-priced tea hidden away in the basement , but the journey of taking the drink deep into one's soul.
Should it be tea or life, a true tea person is always practicing his own way of tea. Today, let us all sit next to a good cup of tea and listen to the tea stories and life of Mr. Leland Li, co-founder of the "Scene Scent Tea".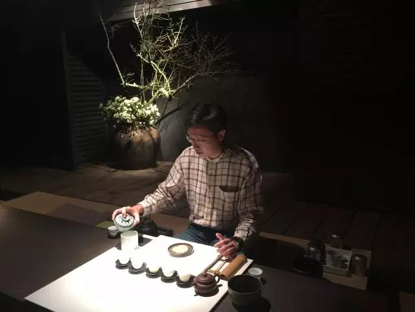 In the construction process of "Scene Scent Tea", Mr. Li Li as one of the founders, also manages Yunnan Mingriyuan Tea Co., Ltd., Yunnan The Nest Hotel Management Co., Ltd., Xiamen City Dating With Tea Information Technology Co., Ltd., Xiamen Vanilla Garden Hotel Co., Ltd., Taiwan Yunshuitang Co., Ltd., Yunnan Mengding Jindu Commercial Complex and ten other companies.
From the focus on macro economy policies to the insights into the tea market environment; from the decline of physical stores to the revitalization of online e-commerce, from the strict selection of tea products to the adherence to personal principles, the above reflects Scene Scent Tea's profound insight and vision.
In the name of "Dating with tea", the company is inspired by the Buddhist language's slogan "It's better to fill up the cup rather then waiting forever." The original meaning is "What is good in learning thousands of sorghums from the senior monks? It's better to let go of everything and drink a pot of tea."
It is always a good idea to live a leisure life in the mountains to pursuit the true meaning of Zen and meditation. It also matches the company's idea of living a healthy and casual life.
Mr. Li said: "If tea is our only language, then it doesn't need much talking as long as you can drink. The tea liquor is a media that conveys human feeling quite accurately. Unfortunately, we always try to express feelings through languages. However, we sometimes seems to miss the point as we misinterpret feelings using languages.
The indescribable taste of tea, is capable of hiding the whole "natural". At the moment of drinking tea, people complete an interaction with nature. What you drink from the cup is the sunlight, raindrop and spirit of the mountains. If you don't feel it yet, it's time for you to date with tea!
When coffee is becoming a lifestyle for young people, tea, as another hot drink, doesn't seem to enjoy the same prestige in China. It's perhaps the bitterness and subtlety of tea that hinders young people –But, this is why it is more worthy of our expression in a modern way, to reveal its true beauty.
How to communicate with young consumers? The road to building a successful brand can not be a wishful thinking. So a emerging brand must aim at catching the eyes of young consumers. Mr. Li Li's team is planning to develop value-added tea products to penetrate the younger market with fresh and unique style and taste. At the moment, they are encouraging young people to drink tea in a different way---the cold brewed tea.
As the old Chinese saying goes, there are friends from afar, it's always a pleasure to welcome them. Tea was meant to be infused with hot water but young people prefer the ice cold tea. Oriental Beauty Tea and Honey Aroma Red Oolong Tea are the best for this style of drinking.
Put a few grams of tea in a bottle of mineral water. The cold water is slowly thickened, sweetened , purified and refreshed. It is most suitable for outdoor activities and business trips. It can save a lot of energy, and make young people live in a world of wisdom and fragrance.
Speaking of the price of tea, Mr. Leland Li insist the Scene Scent Tea should not be overpriced for the sake of the masses. At present, the company is committed to online and offline sales models. Agents and distributors are located in all regions across Northeast China, North China, Northwest China, Central China and South China, making up more than 60% of the whole China. It helps a stable and smooth market network and sales channels. The traditional channel, however, will not be over looked."
In 2015, Mr. Leland Li and Mr. Wu Minmin, Dean of Hangzhou Taiyan Guoxue Painting and Calligraphy Institute, together with the famous oolong tea master Lin Minglang, co developed a new Literati Tea suitable for modern tastes . It is named after a ancient Chinese beauty, "Allure Red Sleeve".
In addition, in cooperation with the Beijing Wonderland Health Spa Club, it will continue to expand its brand influence through airports, bus stations and corporate group purchases through traditional distribution channels.
"When literati tea is still hot from the pot, the concept of organic tea is one of the most discussed topic among consumers. The true quality of tea quality is the charm of the rapid expansion of sales channels. The number of distributors of Scene Scent Tea will continue to grow. At the same time, distributors also show great confidence in the future market prospects of Scene Scent Tea and promises to actively support and implement the marketing policies of Scene Scent Tea. The company strives to improve service management capabilities, and provide better and more diversified services to our friends and consumers. The future is bright with Scene Scent Tea!" said Mr. Li.
Whether you are a literati or a ordinary person, whether you are busy or have plenty of time to spend, a pot of good tea is the secret to enjoyment. If you'd love to drink tea for pure enjoyment, Scene Scent Tea is the place for you .